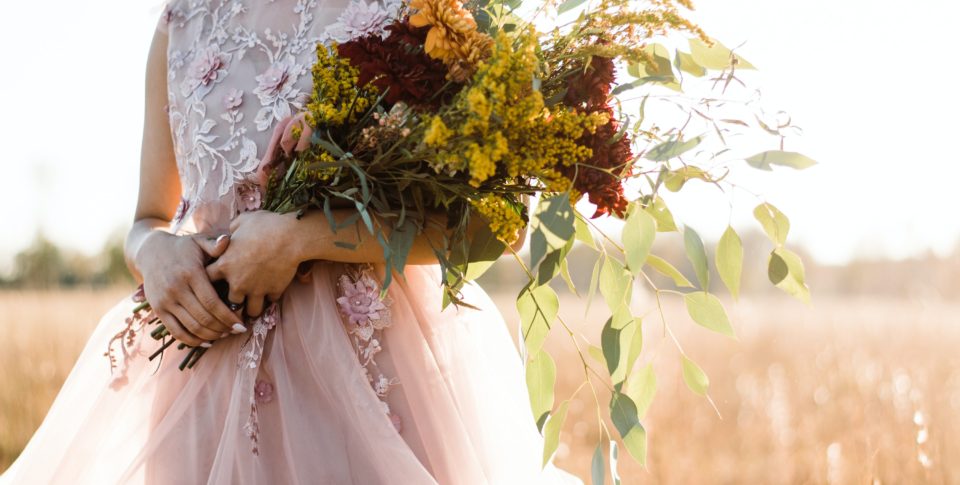 Planning Tips for Fall Florida Weddings
Autumn is a special time in the Sunshine State. The weather cools, the nights get longer, and everything starts to soften a bit around the edges. And while the summer months are peak wedding season in many parts of the US, fall is when the "I do"s really start to warm up here. 
If you're planning a fall wedding in Florida, here are some great tips for getting hitched — without a hitch. 
Enjoy the Outdoors
An outdoor wedding can be a truly lovely occasion thanks to stunning settings and open-air comfort. Fall weather in Florida is still warm enough to be comfortable, but much of summer's heat has backed off. Shady afternoons and cool breezes are the norm. So whether you exchange vows in a park space, backyard, or on the beach, Florida's famously hospitable weather is sure to cooperate. Even receptions are better al fresco in this part of the world.
Dress and Decor
The feel of the fall season lends itself well to a certain color palette. Muted tints, earth tones and jewel-like hues are all appropriate autumnal tones. When selecting the dresses and suits for the wedding party, keeping the season in mind and choosing these notes will be a resplendent reflection of the season. And when planning floral elements, centerpieces and other ornamentation, opting for autumnal features like gourds, cornucopias, fairy lights and even sprays of willow stalks can help to convey a seasonal mood. Even your invitations and "save the date" reminders can be selected to echo this motif. 
Fall Flavors
The menu at your reception is another great opportunity to offer echoes of the season. Rather than opting for the standard garden-variety starters and entrées, peppering your menu with offerings like butternut squash soup, sweet potatoes, pot roast, and apple pie can really help create cozy feelings of fall. If you plan to offer bar service, ask your bartenders to help you come up with a few signature seasonal cocktails, as well. A warm, spiked apple cider would be lovely, as would a grown-up hot chocolate or coffee. Your guests would also likely enjoy a smoky bourbon cocktail, honeyed beverages, and spicy cinnamon drinks.
Entertainment 
A crucial aspect of any wedding is keeping guests engaged during lively receptions. Fall weddings in Florida leave your options wide open. Going for a more rustic feel in your decor and theme? You may want to consider a bluegrass band or country cover act. Throwing caution to the wind and leaning into the beachy feel? A classic rock or surf-music band might be more your speed. If you've opted for pre-recorded music, you can work with your DJ to choose a fall-feel playlist. And don't forget to set up a selfie station (with a backdrop of hay bales, pumpkins or even a sunset) so guests can make their own memories.
Seasonal Goodie Bags
True, the day belongs to you and your partner. But since your guests and family are there to celebrate you, it's always nice to give a bit of thought right back. Why not create some fall-style favors to use as centerpieces or take-home surprises? Some seasonal sweets like caramel drops, marzipan pumpkins or even Halloween candy can go over well. Add in some thoughtful touches like autumn-themed keychains, fall-color trinkets, or reusable USB thumb drives with custom playlists of mellow music (and printed with the couples' names and wedding date) would be welcome surprises for friends and loved ones. Use your imagination! 
Amazing Weddings in Lovely Settings
Of course, all of the above are just ideas to get you thinking. However, if you'd like to outsource the planning process to a dedicated team of professionals, the team at Balmoral Event Center is here to help. When you reserve our palatial space for your ceremony and/or reception, you'll be able to avail yourself of the full experience of Balmoral's wedding specialists. We'll gladly work with you every step of the way to ensure that your big day exactly matches the vision of how you always hoped it would be. From decorating to catering, flowers to booking entertainment, our staff has the expertise and resources to make your wedding one to remember. So when you're ready to discuss your plans, reach out to us. We'll help see to it that your wedding is perfect.