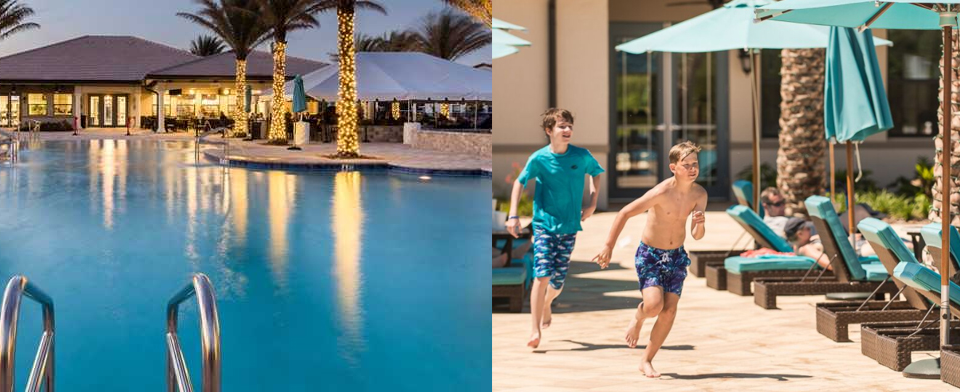 5 Reasons to Rent a Vacation Home Instead of Hotel
Planning a family vacation can be an overwhelming experience. There are plenty of challenges to navigate while planning a dream vacation, including: purchasing plane tickets, making room accommodations, planning meals, organizing time off from work or school, working out accommodations for pets, reserving a rental car, purchasing attraction tickets and planning your itinerary.

With all of that to organize, it is really easy to fall into the routine of booking a hotel room instead of exploring all of the options that are out there. Too many times vacationers don't take the time to consider something that many experienced travelers are already well aware of: the advantages of renting a vacation home over a traditional hotel room.

Here are just five reasons why you may want to look into staying in a vacation home for your next
1. Peace and Quiet: Hotels can be very active and noisy places. Sometimes it is difficult to relax in a hotel room, much less get any sleep due to the amount of traffic and distractions that occur around you. Noise from ice machines, disposal units, foot traffic above or outside of your room, and housekeeping knocking on your door are all commonplace in hotels. Fortunately, vacation homes offer a quiet alternative for your time away from the beaches and theme parks. Having your very own home away from home isolates your family from many distractions. You can enjoy a good night's sleep and prepare for another day of vacation activities.

2. Access to Washers, Dryers and Other Amenities: Vacation homes give you access to things that are considered common conveniences at home, but for some reason travelers concede to go without them while staying at a hotel. These include things like Wi-Fi, storage space, ample living space, ironing boards, hairdryers, a washer and dryer, and more. You may be able to find some of these accommodations at certain hotels, but vacation homes make sure you have everything you need to remain comfortable for a short or extended stay. Perhaps the most important vacation home amenities are a washer and dryer. Being able to wash clothes for the family allows you to travel lighter and gives you the flexibility to keep dress clothes in good condition in the event that you are traveling for business or for a formal occasion, such as a wedding.

3. Your Own Kitchen: Having access to a full kitchen is a major advantage, both for convenience and for financial reasons. Grabbing quick meals or snacks at a hotel can quickly blow your meal budget out of the water. The amount of money a family can save by simply making a trip to the grocery store and cooking meals at their vacation home is astounding. Of course, there will be times when your family will be out and about at meal time, or you may want to indulge in the occasional special dinner, but having a kitchen allows you to capitalize on the times that you are in your vacation home. The convenience of grabbing a snack without having to get yourself presentable to go out is not to be understated either. Kitchens are also a great solution for travelers who have food allergies or want to be health conscience even while on vacation.

4. Your Family or Group Can Stay Together: Large families or groups or friends traveling together typically need to book more than one hotel room. Even though you might be able to find adjoining rooms or even a suite, these options can very quickly become costly endeavors. A vacation home provides your group with space and privacy that a hotel room simply cannot match, and it makes it easier to spend time together. If one member of the party is tired and wants to take an afternoon nap, he or she can do so while everyone else watches TV or plays a game in the living room. Many vacations homes can also accommodate another important part of your family: your pets. This is something that most hotels will not do.

5. Price: We saved perhaps the best reason for last: It is actually far more economical to stay in a vacation home than in a hotel room. This becomes truer and truer as the size of your party increases. It is very possible to rent a home that comfortably sleeps eight and has two and a half baths for around the same cost or just slightly more than a typical hotel room that sleeps two to four. That means the cost for a group of eight to stay in just two cramped hotel rooms may far outweigh the cost of a spacious vacation home rental. On top of that, you will save valuable time having the extra dressing space and bathroom capacity, enabling you to get out the door and on to your daily destinations that much faster. Over the course of a week or two, vacationers can save hundreds or even thousands of dollars depending on party size and length of stay.

Some travelers may be concerned that they are missing out on certain amenities associated with a hotel stay, but the best vacation homes have management companies that will have you covered with a Concierge office. Not only do many vacation homes provide attached private pools, but some Management groups can provide transportation to local attractions and even provide access to game rooms and fitness centers. All of the things you might expect from a high-end hotel experience are not lost at many vacation home rental properties.

If you are planning your next vacation, start by looking at vacation homes available in your destination area. Vacation homes are one of the best kept secrets for vacationers who want both value and comfort. When you are having an incredible vacation home experience at a great price, you will be happy that you did the extra research.